Pune International Centre (PIC) is an independent think-tank working in the domain of policy research and policy advocacy for over a decade. It is led by Dr Raghunath Mashelkar, President PIC, Dr Vijay Kelkar as Vice-President PIC and Prof. Amitav Mallik, founding trustee and head of Energy, Environment and Climate Change (EECC), among others. The EECC vertical under PIC works in the domain of policy research & advisory to the government on sustainable climate-oriented social and economic actions and influences rapid climate action at city, state and national level.
Youth Manifesto for Climate Action:
India's young generation faces an uphill battle when it comes to climate action. The youth are inheriting a planet that is turning out to be unlivable due to the rising impacts of global warming. The Youth Manifesto aims to politicise the issue of Climate Action in India and has listed out crucial demands that need to be acted upon at a political level. To know more and join our movement…
Making PMR Net Carbon Neutral:
The report 'Feasibility Assessment of Rapid Decarbonization of PMR' is an effort by PIC with the support of bp India in finding solutions to decarbonize the Pune Metropolitan Region i.e., understanding the pathway in making PMR Net Carbon Neutral. This study was done in collaboration with Symbiosis International University, National Chemical Laboratory, and several other private consultants along with the support of Pune Divisional Commissioner, PMC, PCMC and PMRDA officials. To know more and contribute to these missions…

PIC is conducting a mass survey of youth priorities for climate action. We are going to put forth the results of this questionnaire to the relevant government agencies for demanding rightful climate action. We need your responses to understand citizens' demands about Environment and Climate Change. Please fill out the google form by clicking here and share your opinions on the future you would like to witness.
Policy Papers and Research:
Every Year the EECC programme launches policy papers in the domain of climate economics, climate action and carbon neutrality. 
Making Pune Metropolitan Region Carbon Neutral by 2030 : A Policy Roadmap January 2020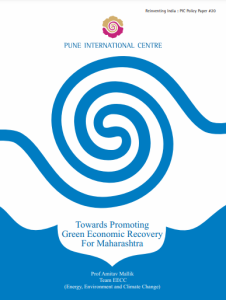 Towards Promoting Green Economic Recovery For Maharashtra